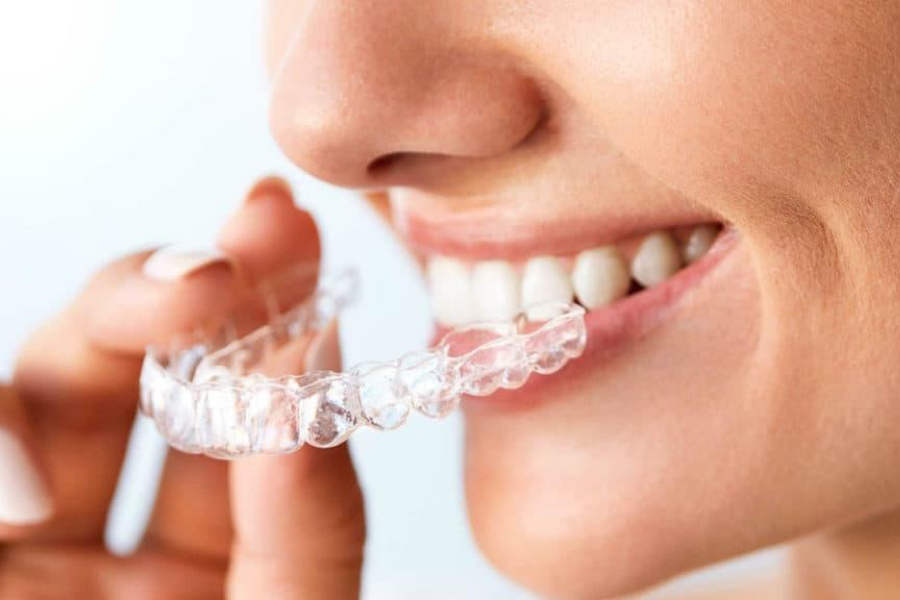 Consider Invisalign treatment to get the beautiful straight teeth you've always wanted — without braces. Invisalign treatment uses a series of virtually invisible, removable, and comfortable aligners that allow you to smile more during treatment as well as after. Invisalign clear aligners are made with 3D computer imaging technology and proven effective with the right orthodontic specialist planning your treatment.
How does Invisalign work?
Invisalign® straightens your teeth with a series of customized aligners consisting of smooth, fitted plastic. The aligners are nearly invisible—many people won't notice you're wearing the Invisalign® trays.
Each aligner shifts your teeth a little more than the last. Every two weeks you'll use a new set of aligners until you finish your treatment.
Straightening your teeth does not need to interrupt your daily life or appearance. With traditional braces, your orthodontist will recommend avoiding certain foods that can get stuck in or break the brackets. With Invisalign®, you pop out the aligners every time you brush your teeth or eat.
Is Invisalign Right for You?
Invisalign treats a wide variety of dental problems but generally can't fix large overbites and extensive jaw damage. Instead, Invisalign treats mild dental issues, including the following:
Crowded and gapped teeth
Misaligned bite (overbite, underbite, and crossbite)
We recommend Invisalign for anyone over the age of 15. Many teenagers worry about wearing braces, but Invisalign offers a great alternative fix.
Invisalign Cost
Enjoying the convenience and appearance of Invisalign can be surprisingly affordable. The total Invisalign cost of treatment varies widely by patient depending upon the difficulty of the case and how long the treatment will last. To increase the affordability of Invisalign treatment, many patients can take advantage of orthodontic coverage in dental insurance plans, and convenient payment plans.
One of the greatest benefits of Invisalign is that no one even needs to know that you are wearing them. The aligners used are made out of clear plastic that visibly disappears once positioned on the teeth.